Increasingly erratic climate requires an all-weather garden centre
Monday 4 October 2021
The climate is changing. That also changes the playing field for anyone who has plans to build or adapt their garden centre. How to respond to periods of heat or cold, heavy rainfall or prolonged drought?
And how to achieve an indoor climate that is pleasant for your visitors and for your energy bill? We are talking about the climate-proof building. As the specialist in this industry we would like to inform you.


Anticipating a more erratic climate
In Western Europe, too, we now know what a capricious climate means. Many records have been broken in recent years. Too much precipitation regularly leads to major flooding. Storms are getting stronger. Then another prolonged drought… We have to anticipate on this.
Effective solutions without high energy consumption
A garden centre in particular, with its multitude of glass, requires a special approach. If hot summers become more frequent, and this trend has been going on for twenty years, effective solutions must already be taken into account in the design without having to pay high energy consumption in return. Who likes to receive their customers in a garden centre where it is 30 degrees or more in the summer for weeks?
Smiemans Projecten is used to responding to extreme demands. The construction of the botanical garden in Kuwait is perhaps the most appealing example. Outside, in the summer, the mercury rises to 50 degrees and more. Inside there is a pleasant European climate.
Optimal climate control is one thing, but achieving that indoor temperature with sustainable techniques is another task. In this we are also the expert. Successful experiences have been gained in other projects, such as the atrium for VB, with techniques such as heat and cold storage, heat pumps, solar panels and far-reaching insulating materials. In the event of overcapacity in its own energy supply, the garden centre can even function as a power plant that supplies electricity back to the grid.
Green is also essential in this climate-proof and sustainable environment. Green improves the environment, reduces air pollution, creates natural water storage, dampens noise and cools. Building and environment reinforce each other by using natural elements, such as trees that act as sun protection and ponds as cooling, as carried out at meetingcentre Jardin d'Hiverre.
Meeting high requirements of international regulations
In the EU, there is an 'Energy Performance Buildings' directive (2010/31/EU) of May 2010, which states that all new buildings must be built virtually energy neutral by 31 December 2020 at the latest. However, the regulations from the Danish government are even higher, including for insulation. Thanks to our international experience, these rules have been amply met for the construction of the garden centres for Plantorama thanks to their extensive know-how.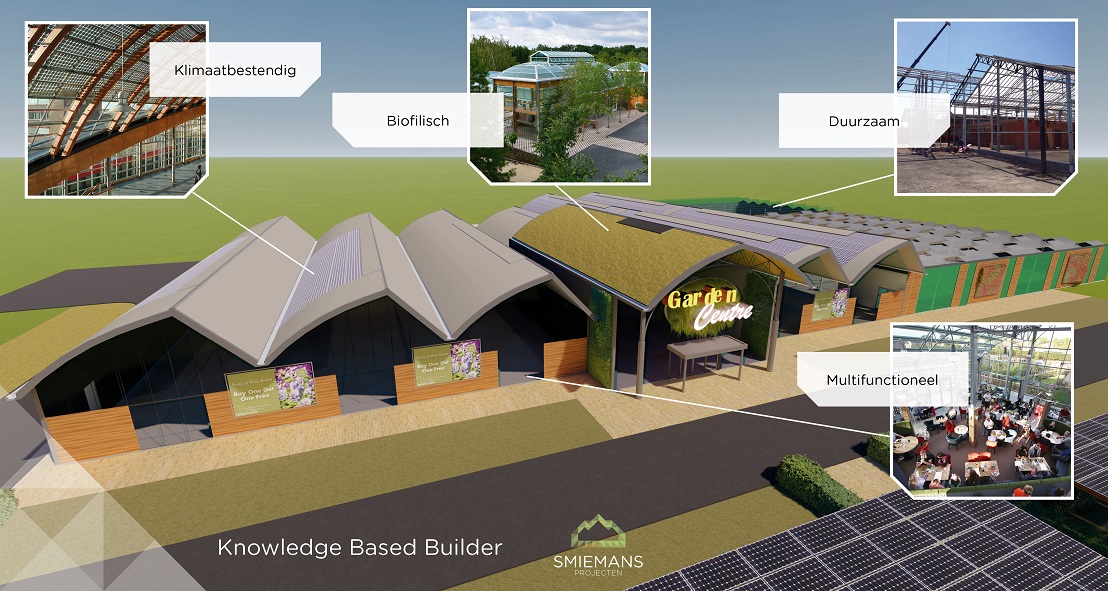 Want to know how can you achieve the ideal climate without using too much energy, contact us. We are happy to help!