Glass palace by the water
| | |
| --- | --- |
| Location | Baarn (NL) |
| Realisation | 2017 |
| Surface | 1,120 m2 |
| Architect | MIII architecten |
| Type | HighLight curved glass construction |
| Purpose | Meeting centre with various conference rooms, sanitary rooms, kitchen and an office. |
Beautifully designed meeting centre in Victorian style
Another special project, this time in the middle of a tree nursery with more than 100,000 trees in 750 species and varieties. Hans Blokzijl, owner and director of Bomencentrum Nederland in Baarn wanted a new congress centre. We have built a beautifully designed meeting centre in Victorian style for him. He opened 'Jardin d'Hiverre' in april 2017.
As the pictures clearly show the new meeting place is extraordinary. On top of the wooden construction there is an ultra-modern glass roof that gives the new pavilion a natural yet stylish appearance.
Victorian style glasshouse
The roof construction of this project consists of a repetition of technical elements that provides us with a rarely seen, state of the art profile. A progressive project so special that it greatly challenged our professional knowledge. Wooden frames made of Austrian pine are used for the supporting structure. Steel coated profiles lie on top of these. The roof has tinted green, the side walls have transparant glass. The combination of all materials together gives the project a wonderful warm appearance.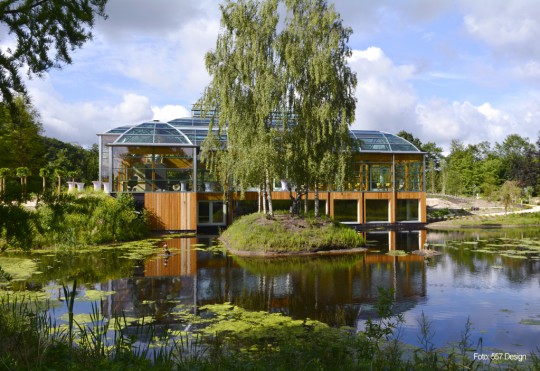 Light and attractive glass construction as a conference room
The glass orangery is mainly used as a reception and meeting space. In the basement, where 450 people can find a seat, it is not visible from the entrance side on the south, but on the north side the glass facades of the orangery run down and large windows provide daylight in this conference room. You also have a view of the adjacent pond. The towers with on the first floor contain the kitchen, sanitary rooms and an office.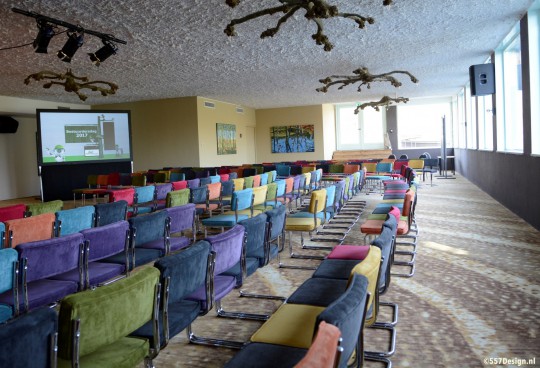 Sustainable and biophilic-built glass construction
Nature plays a major role in the sustainable and biophilic-built glass construction that has a total surface area of 1,120m² and a height of 9 meters. A row of amber trees on the south side of the complex act as a sunscreen in the summer and in the winter the bare trees allow the sun to heat the building. In the basement, a light and cool ground floor, the adjacent lake provides natural cooling.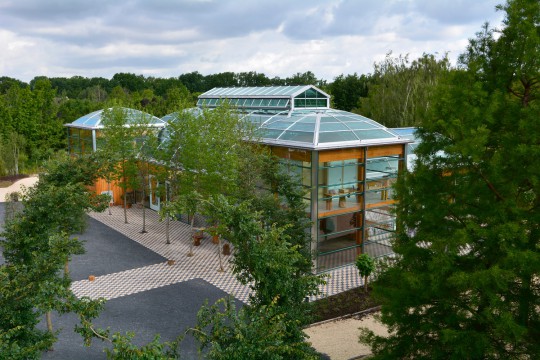 Interested in all the possibilities of glass buildings?
Contact the expert in commercial glass constructions

For more information about this project - download our brochure