Glass atrium for new sustainable office VB
Place
Naaldwijk, NL
Realisation
2019/2020
Surface
970 m2
Type

High-quality insulated roof construction

Purpose
relaxation-, presentation- and

conference room
Glass connection between office and company hall
Smiemans Projecten is building an 11-meter-high glass construction around VB's new office building in Naaldwijk. This atrium connects the office with the company hall and offers space for relaxation and meetings. The glass construction also gives the appropriate appearance to the new office building that belongs to Westland and to the greenhouse construction projects that the VB group is realizing worldwide.
Optimal climate
By making use of high-quality insulated profiles in the roof of the glass construction and high-quality insulating glass, the climate inside can be optimally regulated. In addition, the movable sunscreen controls the sun's radiation and the natural ventilation is perfectly matched to this.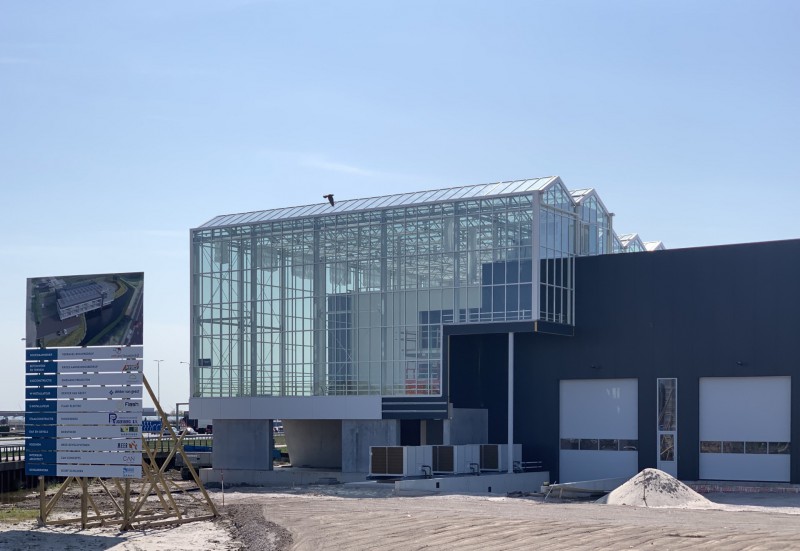 Sustainability and innovation
The new building will be visible on the extension of the A20 towards Rotterdam and Naaldwijk. VB therefore continues to operate from the heart of global horticulture: Westland. On March 20, 2019, not the first pile was driven, but symbolically eight beautiful trees were planted that represent sustainability and innovation, two pillars of an internationally operating greenhouse construction company.