Glass atrium for new sustainable office VB
Place
Naaldwijk, NL
Realisation
2019/2020
Surface
970 m2
Type

High-quality insulated roof construction

Purpose
relaxation-, presentation- and

conference room
Glass connection between office and company hall
Smiemans Projecten built an 11-meter-high glass construction around VB's new office building in Naaldwijk. This atrium connects the office with the company hall and offers space for relaxation and meetings. The glass construction also gives the appropriate appearance to the new office building that belongs to Westland and to the greenhouse construction projects that the VB group is realizing worldwide.
Optimal climate in energy neutral building
On July 20th the internationally operating company moved into the energy neutral building. On that day, the GPR certificate was also awarded after an extensive assessment by consultancy bureau M3E. With extremely high scores (between 7.9 and 8.8), the sustainability of this property ranks among the top in the Netherlands. By making use of high-quality insulated profiles in the roof of the glass construction and high-quality insulating glass, the climate inside can be optimally regulated. In addition, the movable sunscreen controls the sun's radiation and the natural ventilation is perfectly matched to this.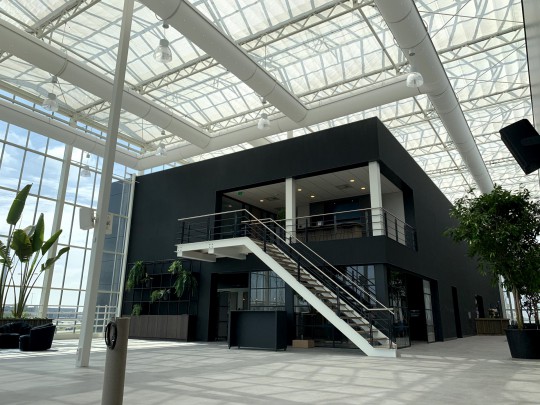 Sustainability and innovation
The SP Small Span construction we used is ideal for creating a pleasant indoor climate. The building is energy efficient due to the insulated profiles and the triple glass. The beautiful building is located on the busy traffic square Westerlee (A20), but little is noticeable inside because the glass has better soundproofing. In winter people experience less cold, which in turn gives more comfort. In addition to solar panels and triple glass, preparations have already been made for a connection to the geothermal network. In other words: a sustainable future!