"In a glass construction there is 100% awareness of the natural processes!"
Jeroen Smiemans
Biophilic design and construction
Connection with nature
Biophile design and construction
We live more indoors than outdoors, but originally we thrive best in a natural environment. Research supports the positive effects. Reconnect people with nature by building a glass construction.

Enhanced sense of wellbeing
Customer experience
Where else can you feel the connection with nature better than in a glass construction. Natural light, pure air, even a wind flow. In the article of EFSA you can read more about Biophilic constructions.
The meeting centre "Jardin d'Hiverre" is a good example of "a biophylic building" due to the natural cooling of the adjacent lake and the trees that act as a sunscreen in the summer and allow the sun into the building in the winter.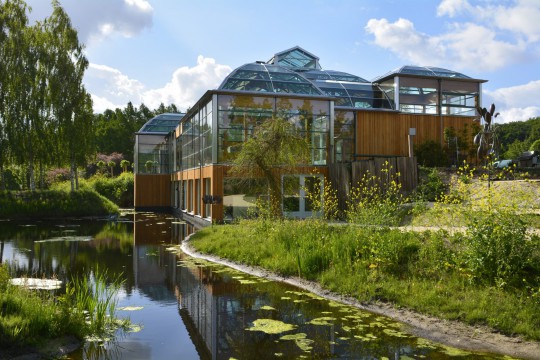 Improve the natural experience
Public accessible buildings

Also outside the garden centre branch we apply our experience with biophilic buildings. A recent project is the expansion of the headquarters of Planon, an internationally operating software supplier. This biophilic glass construction will be used as a workplace, recreation room and showcase for their products. The glasshouse, their innovation campus, will be - of course - energy neutral.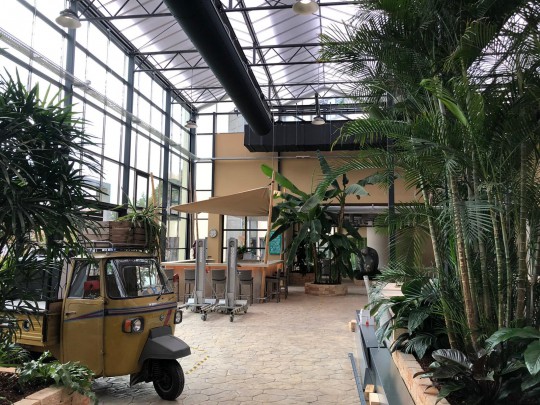 Positive properties of glass constructions
Increase the quality of your project; daylight gives pleasure and energy!
It is scientifically proven that daylight is good for the health of people (and animals). We deliver customized glasshouses that are functionally and aesthetically distinctive. Glass constructions have been realized to 100% satisfaction for various institutions, all with an optimal climate and accessibility. And within the available budget and timeframe.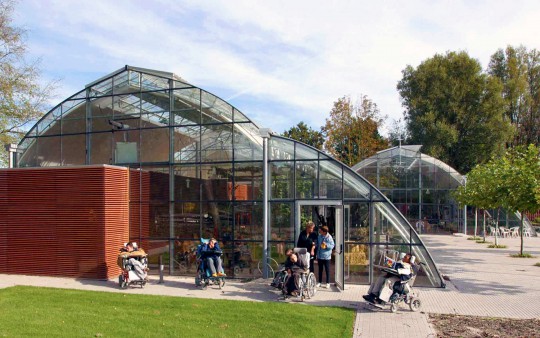 Europe's largest covered jungle
Two biophilic projects at Wildlands
In addition to a butterfly glasshouse, which looks more like a butterfly jungle with ruin temples inspired by Anghor Wat, Smiemans also built the largest covered jungle in Europe at Adventure Zoo Wildlands. This greenhouse construction was provided with a special 3-layer ETFE foil. These inflatable cushions not only provide daylight, but the entire light spectrum. Thanks to the excellent insulation, the tropical climate can be well simulated. All this is essential for the tropical plants and animals. And visitors really experience the feeling of being outside.