University Goethe, Campus Riedberg (DE)
| | |
| --- | --- |
| Place | Frankfurt am Main, D |
| Opening | 2012 |
| Surface | 1,400 m2 |
| Architect | Königs Architecten, Cologne |
| Design | Three differently shaped 'arches', with a maximum height of 14 meters |
| Assignment | Construction of a special greenhouse for research |
Plant research with ideal conditions for the growth
The Faculty of Biology at Frankfurt-am-Main's Goethe University is set to continue its plant research activities in a purpose-built glasshouse, designed by Königs Architects in Cologne. Located at the university's Riedberg Campus, Smiemans Projecten construction implements all the latest technologies to bring ideal conditions for the growth of plants and, in so doing, meets the needs and requirements of the faculty. In addition to research, this eye-catchingly designed glasshouse will also be used for cultivation purposes and for the entertainment of students.
Curved glasshouse with best quality materials
The glasshouse has a total area of 1,400 m². The glasshouse is designed with three arches, each varying in height. The highest point is 11 metres and the construction has a length of 45 metres. Needless to say, Smiemans Projecten works only with the best quality glass and constructional materials, ensuring that the glasshouse is effectively insulated.
In 2021 we built a similar project, also from Königs Architecten, but a lot bigger - the tropical glasshouse for botanical garden Flora in Cologne.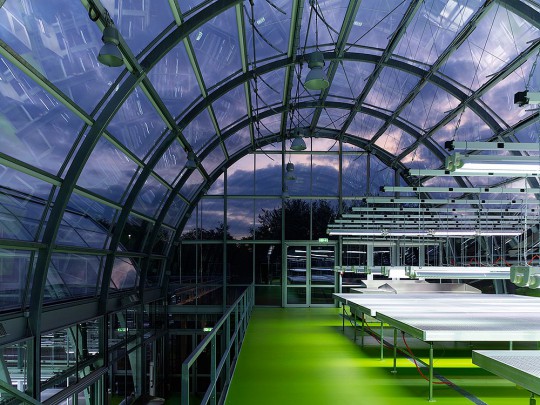 State of the art climate and energy systems
The glasshouse uses state-of-the-art climate-conditioning and energy systems, so that the required climate can be created for each individual space. This is essential for the faculty's plant research because it enables the best growing conditions. An optimum combination of glass, foil and coatings brings about the very best in insulation and the most advantageous growing conditions.
Interested in more information about climate-proof constructions?