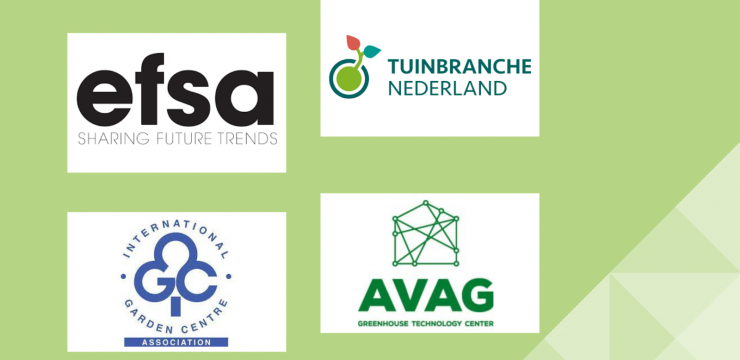 Trade Associations:
The Netherlands leads the way in innovation and knowledge in the glass construction industry, with a rich history of pioneering designs and technologies. The organisations below monitor and focus their activities on representing the interests of their members throughout the chain.
Tuinbranche Nederland:
The authoritative trade association for the entire Dutch garden chain, representing growers, importers, wholesalers and retail centres. They advocate for the industry, providing lobbying, promotion, representation and valuable information for entrepreneurs.
EFSA:
A collective of leading growers,  and importers in the floriculture and lifestyle sectors, driving innovation and exploring future trends. EFSA serves as a global platform to enhance competitiveness and provides inspiration through collaboration with trend agencies and industry experts.
IGCA:
The International Garden Centre Association (IGCA) is a non-profit organisation dedicated to the growth and improvement of the garden centre industry worldwide. Through its platform, garden centres can connect and share ideas, information and resources with like-minded members around the world. It's our desire to bring the industry together and cultivate a close-knit community rich in shared knowledge.
AVAG:
The Dutch greenhouse construction and technology association. It supports its members in their efforts towards quality, innovation and internationalisation, drawing on years of industry expertise and global export success. AVAG is a cornerstone of invaluable knowledge for the industry.
We are proud members of these affiliations, which allow us to share knowledge and insights within our network.

Jeroen Smiemans
Activities
The Netherlands is a globally respected supplier of innovative glass structures. The above memberships ensure that we can successfully realise our projects internationally. The activities of these associations include lobbying the government, general sector promotion, industry representation and inspiration, information and advice. This allows us to use our expertise to push boundaries and shape a sustainable future.